Expansive Platforms
The recently redesigned Skyjack full size rough terrain scissor lifts boast some of the largest platforms and capacities on the market. These machines also feature axle-based four-wheel drive, providing them with outstanding all terrain capabilities.
SKYCODED™
A proven and reliable control system, incorporating Skyjack's color coded and numbered wiring system, make our machines the easiest to trouble shoot and repair which means easier maintenance and lowered costs.
ACCESSORYZERS™
Skyjack offers a full line of ACCESSORYZERS™ to improve your machine's versatility. These manufacturer-approved accessories are designed to add functionality to your machine and convenience for the operator. Whether it's helping you get materials to the work site, protecting equipment from the weather, or enhancing productivity, Skyjack has the right accessory for the job.
AXLDRIVE™
An axle-based drive system with an operator controlled locking differential on the rear axle and limited slip differential on the front axle. This drive system has been proven as durable, low maintenance, and capable of navigating any job site terrain.
SMARTORQUE™
Skyjack's TH series is engineered to require NO DPF (Diesel Particulate Filter), NO DEF (Diesel Exhaust Fluid), and NO other active exhaust after treatment on standard engines. By utilizing improved gearing, high torque engines and a simplified, high efficiency hydraulics package, the TH series is able to employ 74hp engines to deliver the same on-site job performance as higher power units. In addition this allows for improved residual value as a simple more reliable machine competes positively with active emission controls. This solution is much more than the simple use of a 74hp engine and involves optimizing gearing and axle ratios, utilizing an enhanced torque convertor optimization and the development of other synergies through the use of Deutz engines, Dana powershift transmission, and Dana axles.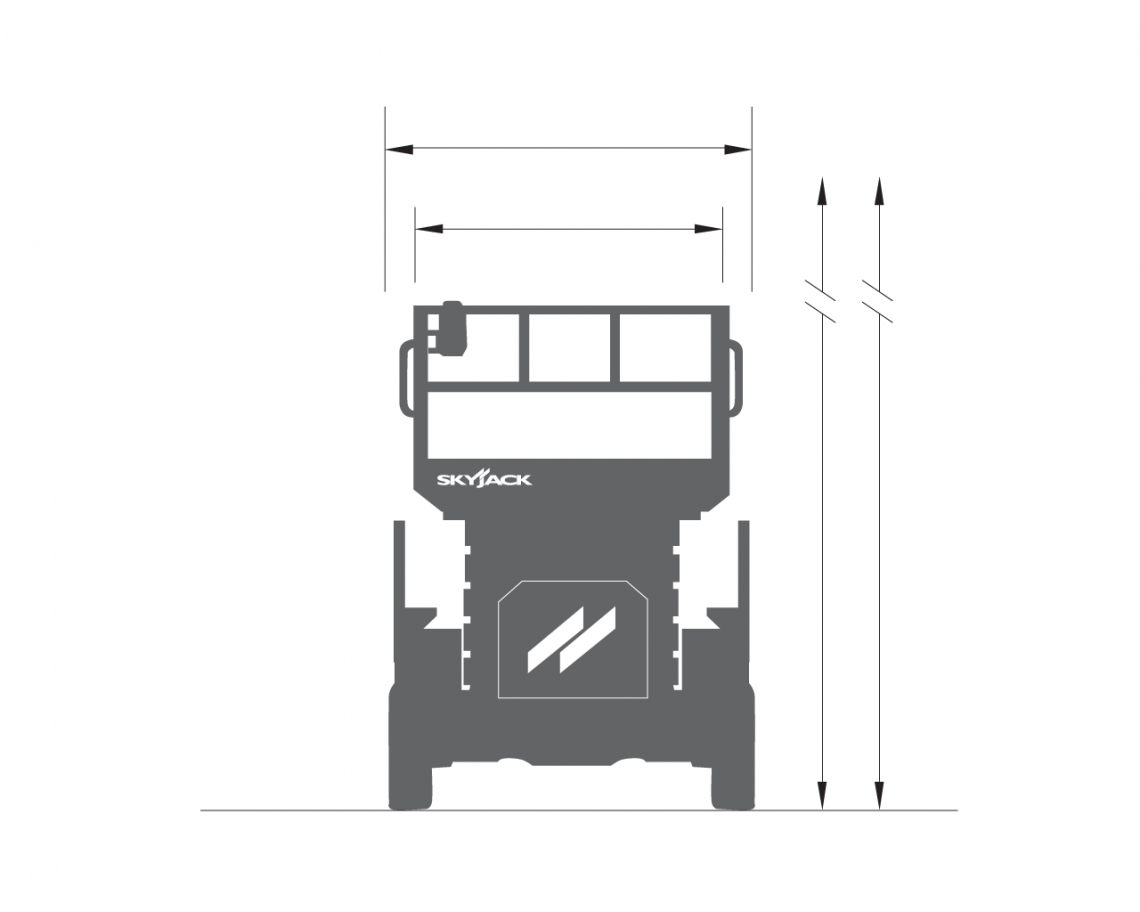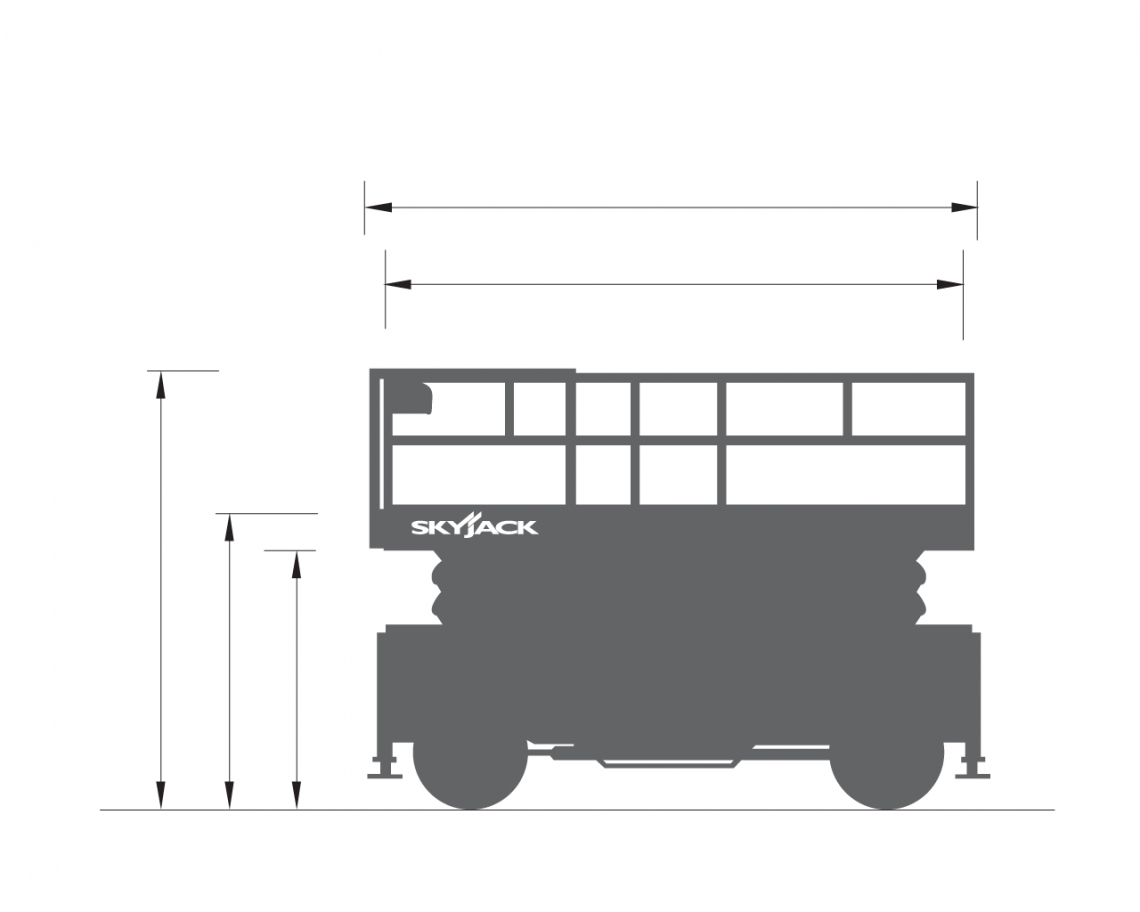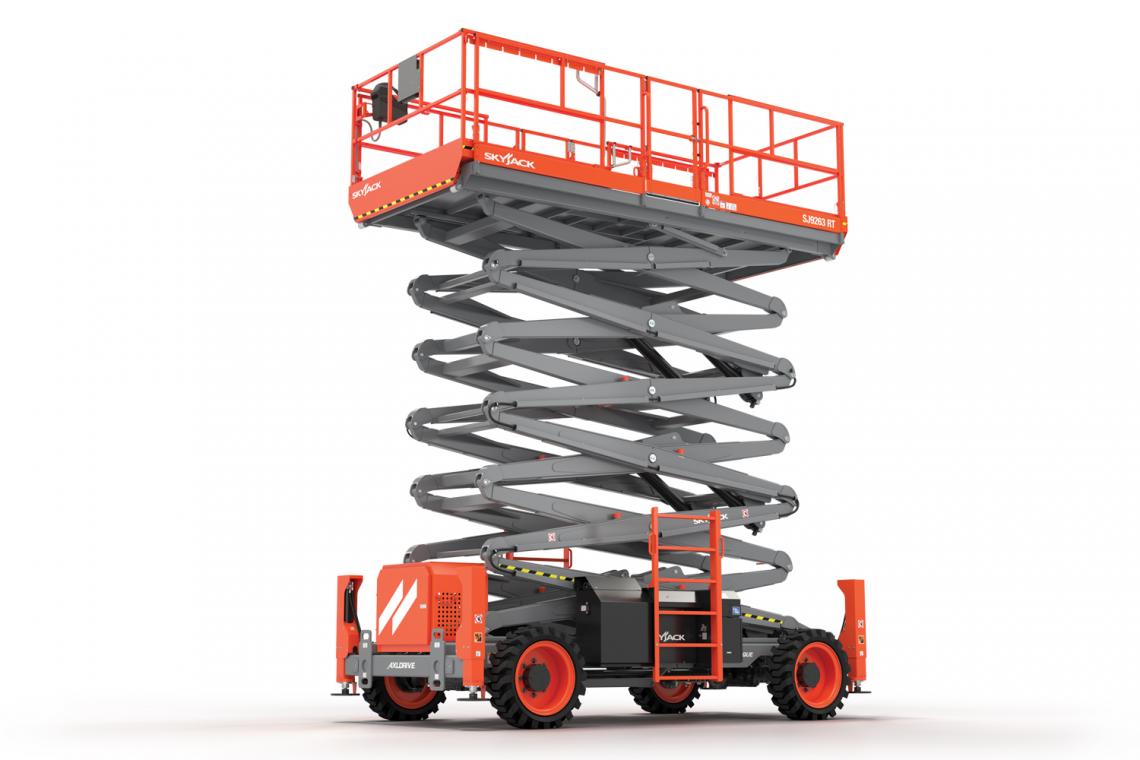 | | SJ9263 RT | |
| --- | --- | --- |
| Work Height | 21.20 m | |
| Platform Height | 19.20 m | |
| Lowered Platform Height | 2.31 m | |
| Overall Width | 2.30 m | |
| Overall Length | 4.42 m | |
| Stowed Height (Rails Up) | 3.42 m | |
| Stowed Height (Rails Down) | 2.63 m | |
| Platform Width (Inside Dimension) | 1.90 m | |
| Platform Length (Inside Dimension) | 4.31 m | |
| Extension Deck (Roll Out) | 7.12 m | |
| Extension Deck | 1.52 m x2 | |
| Ground Clearance | 26 cm | |
| Wheelbase | 3.02 m | |
| Weight | 9,670 kg | |
| Gradeability | 30% | |
| Turning Radius (Inside) | 3.25 m | |
| Turning Radius (Outside) | 6.40 m | |
| Lift Time (With Rated Load) | 75 sec | |
| Lower Time (With Rated Load) | 50 sec | |
| Drive Speed (Stowed) | 4.8 km/h | |
| Drive Speed (Raised) | 1.0 km/h | |
| Maximum Drive Height | 10.06 m | |
| Capacity (Overall) | 544 kg | |
| Distributed Capacity (Main Platform) | 90 kg | |
| Distributed Capacity (Extension Deck) | 227 kg | |
| Maximum # of Persons | 4 | |
| Wind Rating | 28 mph (12.5 m/s) | |
| Tire Type | Solid | |
| Tire Size | 33 x 12-20 | |
| Diesel Engine | Kubota D1305 - 24.8 HP (18.5 KW) | |
| Fuel Tank | 49 L | |
| Hydraulic Reservoir | 87 L | |
accessories and options
SJ9263 RT
ECOSTART (anti-engine idle)
BIO OIL
DUAL ROLL OUT EXTENSION DECKS
TYRE OPTIONS
ARCTIC WEATHER PACKAGE
COLD WEATHER PACKAGE
ELEVATE
POSITIVE AIR SHUT-OFF VALVE
RT HEAVY DUTY PIPE RACK
SGLE
TOOL CADDY
DIESEL SCRUBBER
MATERIAL HANDLING STAND