Global Olympic Celebrations
Post date:

Fri 2016-08-19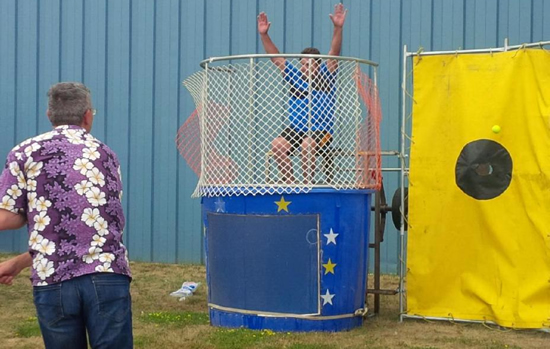 With no offence intended to our Russian customers, I will say that I am deeply disappointed with the International Olympic Committee's (IOC) stance in allowing "full bodied" Russian athletes of all levels to compete at the discretion of their sport ruling bodies, yet somehow, they managed to make the inequalities even greater, by banning all Russian athletes from the Paralympics. Greed and money win out again at the IOC, much like what happened with the Fédération Internationale de Football Association (FIFA). So as much as I love sport and supporting my hard working, talented Canadian athletes, I find my opinion somewhat jaded from the simple euphoria that it should represent.
Regardless, Go Canada!
As I alluded to last month, summer is still upon us, and for Skyjack in Guelph, that means a well-deserved staff BBQ prior to some time off to maintain all of our production lines. We had a charity dunk tank and human foosball scheduled as a few of the more popular activities. I enjoyed dunking our VP of Operations, Joe Chaves, personally!
It has certainly been a challenging year, with our major North American customers delaying their capital expenditures on aerial equipment. But after a sluggish start we are catching up to our expected sales. Certainly our newly released TH telehandler line has been very successful, gaining market share in a declining North American market. We also look forward to additional sales from our newest product launches.
Of course, not to the same extent, but yet a little bit athletic, the Skyjack team participated in the Heart & Stroke Big Bike event in Guelph this month, raising over $2000 while touring the area on a bicycle built for 30! It was a ton of fun and greatly appreciated by many in the community who honked and yelled their support as we passed. Of course, the pizza to regain our strength afterwards didn't hurt either.
Going niche to go big
As I write this, our new SJIII 4740 products are shipping and being very well received in the market. Our customers have been waiting for us to enter this somewhat niche market, and we are reaping the fruits of our reputation as the world's largest scissor producer, with many advance orders. This success will soon be followed by the pending production release of our SJ30 ARJE, a small electric articulated boom, with a rotating jib option. We have pending orders for this unit as well, and look forward to seeing them working, Simply and Reliably, in a variety of applications.
And finally, yet another reminder that the new suite of ANSI standards are expected to be published in the not too distant future! This will change the landscape of our industry within the largest market for this equipment, making the US units much more comparable to their counterparts around the globe and most specifically in Europe. Watch this space for far more detail! When the standards are actually published, we'll be able to share the final scope and implementation dates associated with the new design requirements!
Hope you have had a great summer and look forward to getting deeply into the planning cycle for an exciting 2017!
SORT BY YEAR
POPULAR POST
From trade shows, to product deliveries, and more, check out the top Skyjack stories th
From trade shows, to product deliveries, and more, check out the top Skyjack stories ma