Globe-trotting safety ambassador
Post date:

Wed 2016-06-22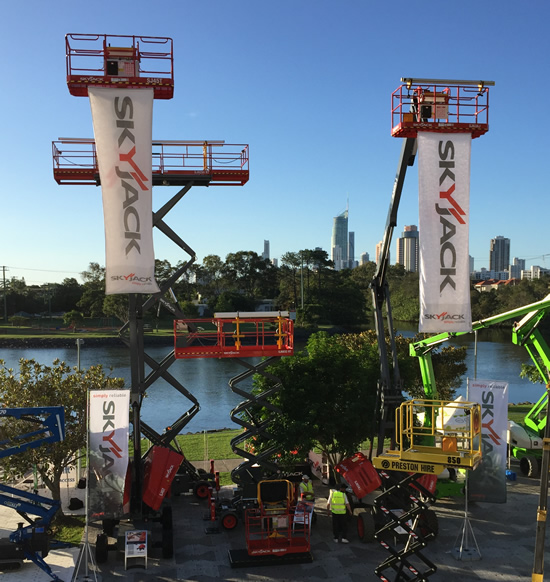 Sorry I'm a few days late with my June blog, but I made my airline Platinum status in May for 2016 and put a good dent in my Million Miler status as I traveled all around the Pacific rim. Regardless of my travel whining, there are so many great things happening and on the verge of happening in this part of the world.
My trip began down under in Australia, with some personal time to visit my father in Darwin and was then succeeded by the Hire and Rental Industry Association (HRIA) Convention on the Gold Coast. I've never been to Oz before, and I have to say that everywhere I went everyone treated me exceedingly well and the hospitality was excellent from old and new friends alike.
The HRIA exhibition was very successful and well attended with decision maker level representation throughout the booths. We had two very unique and well-appointed booths, with a custom bar inside (we have a reputation to maintain). Although we had to juggle machines around a tree in the midst of our outdoor space, it fit quite well and we were overjoyed with the shade in the heat of the day.
I was also appreciative of the opportunity to express some opinions regarding the status of global standards development and safety initiatives in our industry at one of the seminars held during the convention. Thank you to the HRIA staff for giving me that opportunity. I never pass up a chance to dabble in some public speaking regarding our industry! It's a long way to go to spread the news, but I very much look forward to my next visit to support the safety culture within Australia.
Sophisticated Asian market
After a short visit with the Skyjack Australia team in Sydney, we were off to a somewhat quick tour to various points within Asia.
From Singapore, to Shanghai, Tokyo and Seoul, I continue to be reminded and amazed at how different and individual each culture truly is. They are at different levels of sophistication with respect to the MEWP market and training within that market. These four markets are also at different levels of maturity. To a certain extent they are developing in divergent manners – differently from one another and, for the most part, differently than any other currently developed markets.

This strengthens my resolve that the Skyjack approach of being simple, reliable and easy to do business with is truly a universal concept – the same principles are applicable in every region and country. Our trip to Asia has helped us determine and define what that means in each of these places. We will develop the appropriate customer-based and-biased regional strategy to allow Skyjack to do what we do best – be successful whether that's in the North American, European or in the Asian Pacific marketplace!
SORT BY YEAR
POPULAR POST
From trade shows, to product deliveries, and more, check out the top Skyjack stories th
From trade shows, to product deliveries, and more, check out the top Skyjack stories ma