Growing appetite for high-reach DC Scissors
Post date:

Fri 2016-04-01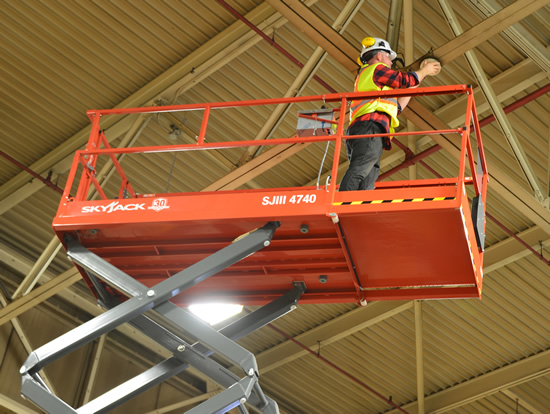 I recently came across an article in the Wall Street Journal on the growing appetite for large warehouses fueled by big box retailers like Amazon.com.
In 2015, facilities over 300,000 square-feet with 28-foot ceilings or higher, increased almost six times in four years to 61 million square-feet. In 2016, an additional 74 million square-feet are set to be completed, the newspaper reported. That's a lot of new construction!
It resonated with me because we are hearing similar stories from our rental customers, who have asked us for high-reach equipment to work on industrial and commercial applications. End users told us they need increased working heights to reach certain areas, whether that's for maintenance, electrical work, or stocking and retrieving items.
A few years ago, this was a small niche market, but the more we heard from our customers, the more we realized we needed to help meet their demand. This is why we introduced the SJIII 4740 DC electric scissor lift, which has a working height of 45 ft, at the Rental Show 2016. Like other Skyjack machines, the SJIII 4740 offers a trusted, easy-to-service and low-maintenance design that follows our Simply Reliable philosophy.
While the SJIII 4740 may be our latest addition, it's by no means the last. As we look ahead to the future, we remain committed to manufacturing machines that meet and exceed our rental customers' needs.
Join the discussion:
Are you seeing a similar growth in large warehouse construction in your area? Has that been fueling demand for high-reach DC Scissors in your area?
SORT BY YEAR
POPULAR POST
From trade shows, to product deliveries, and more, check out the top Skyjack stories th
From trade shows, to product deliveries, and more, check out the top Skyjack stories ma