Skyjack on the silver screen
Post date:

Thu 2016-12-15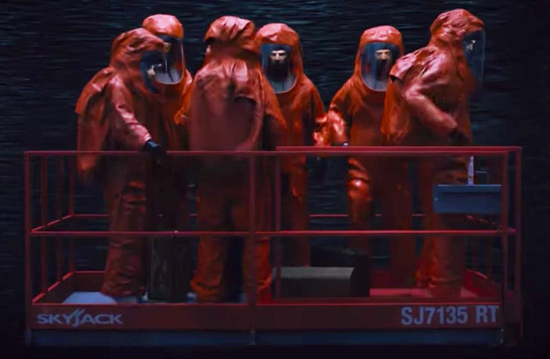 Have you watched Arrival? If you haven't watched the thought-provoking film, I won't ruin the plot for you. But, I'd just like to say not only does the award-winning sci-fi film boast a great plot but it also includes the biggest Hollywood stars. Are you thinking Amy Adams? Well, she's a fine actress, but for me the scene stealer was our SJ7135 RT! Our rough terrain scissor takes center stage during the first minute of the trailer, where it safely lifts a team to decipher and communicate with aliens.
Seeing one of our simply reliable lifts featured on the silver screen was a great way to start the holiday season but there's more! In late November, we followed last year's tradition and hosted a tree-lighting ceremony and toy drive. We donated toys to Guelph-Wellington Women in Crisis and $2,500 to the organization during the ceremony.
We believe strongly in supporting the communities that support our employees and in early November, we also participated in the Guelph Storm's Paint the Rink Pink night, which benefits the Canadian Cancer Society. In the past, we created special-edition boom t-shirts to benefit the Canadian Breast Cancer Foundation. This year, we joined forced with our parent company Linamar, a corporate sponsor of the Guelph Storm, and created "BOOMbastic" t-shirts that were sold during the Paint the Rink Pink night. In total, we raised $1,500 through selling the t-shirts and donated the proceeds to the Canadian Breast Cancer Foundation. We also used a special pink boom to drop the puck, which I believe was the good luck charm that helped Guelph Storm triumph over the Mississauga Steelheads that night!
Apart from a busy giving season, we also returned to bauma China this year and had a wonderful time meeting friends old and new. We showcased our DC electric scissor SJIII 4740 and the SJ30 ARJE and heard from customers in the region. I was most pleased at our traditional Chinese banquet that many customers went out of their way to tell me how our gathering felt far less formal and more like family. We continue to grow our success, one customer interaction at a time.
I was also honored to speak during the second annual Access, Lift and Handlers Conference & Awards in Miami, which attracted over 180 attendees. Though I mentioned this in the last blog, I'll revisit it in a bit more detail here. I shared my views on cost of ownership, the lifecycle of machines and supply chain issues. The rental business offers several benefits: ability to control expenses, access to latest equipment, 24/7 support, best machine for the project, no maintenance or repair costs and flexibility to grow or shrink fleet based on seasonal or project needs. You can view the full presentation here. We are also partnering with ALH to conduct the publication's first-ever Cost of Ownership survey. We are looking for fleet owners to spend less than five minutes to fill out a quick questionnaire via this link. Participants have the chance to win a $200 Amazon gift card. The results will be shared in an upcoming issue of ALH.
Wow, now that I've finished writing this, it has, indeed, been a busy season. But, I plan on spending lots of time with family and friends to relax, refresh and prepare for the new year ahead. (Somewhere in there I may also squeeze in a second viewing of Arrival!) Happy holidays! I hope you also have a relaxing time with loved ones.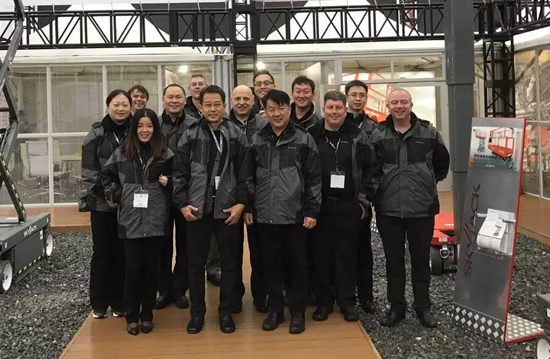 SORT BY YEAR
POPULAR POST
From trade shows, to product deliveries, and more, check out the top Skyjack stories th
From trade shows, to product deliveries, and more, check out the top Skyjack stories ma