Summer at last!
Post date:

Wed 2016-08-03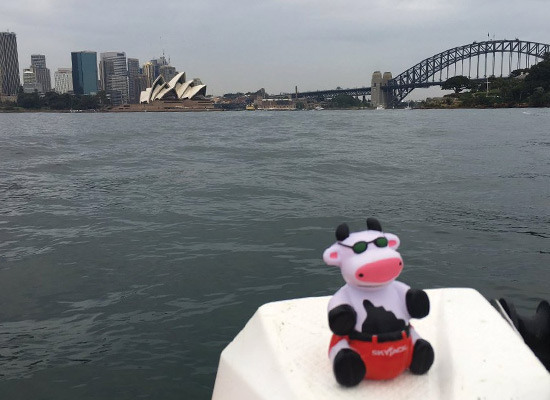 As I write this, I am considering the fact that we all seem to be going in different directions at this moment – not as a company, as we had a recent management meeting and I am feeling really good about the alignment of the Skyjack team – but individually fitting in some well-deserved downtime throughout the Skyjack global organization, as summer vacations abound. More specifically, Skye, our traveling ambassador this year, seems to be appearing all over the globe now. With stops at the Great Wall of China, the Eiffel Tower, the Kremlin, Times Square, Sydney Harbour, the Arctic Watershed… Skye has become a great ambassador of Skyjack around the globe, as she follows our employees on their personal and work adventures.
Of course, somewhat related to the awesome PR work Skye has done across the globe, is the great work that continues to be generated out of our top notch Skyjack marketing department. One of those notable ideas that we had and brought to fruition with our media partner, SE10, was our 30 FOR 30 charitable campaign that we undertook in 2015 to celebrate our 30th anniversary. We identified and funded 30 charitable projects, or events that featured a worthy cause but also had a significant link to the access industry. In some cases we made cash donations, but in many instances we were able to donate cash, time and equipment, to offer a truly Skyjack solution for our industry partners.
To infinity and beyond
Next, in the same marketing vein, but with an inspired twist of innovation, we have opened the Skyjack and Linamar family up to the limitless possibilities of the Imaginarium! Commissioned this summer in Guelph, the Imaginarium is a physical space that offers any employee a place to let their mind wander outside of the traditional realms and focus on what could be as opposed to what is. Of course, we have allowed the Imaginarium to flow outside of its physical space as well, and have offered our imaginative and responsive staff globally to access this thought palace and contribute as and when they can. No idea is too silly or controversial for this forum. Although many ideas may lead to nowhere, it only takes a few creative nuggets – and equally creative Skyjack minds – to lead us to places never before thought possible in the not too distant future. To quote Buzz Lightyear, we are going to take Simply Reliable to "Infinity and Beyond!"
As Skyjack continues to grow, we know change will be a constant. The next one we see in the pipeline is the new ANSI standards on the horizon for AWPs, or should I say MEWPs (as they will be officially referred to in the coming standards)? Though we don't have an official timing for the suite of standards to be published, and therefore, the required implementation date of the design standard, we know that the uncertainty around this is causing stress and anxiety around a variety of organizations. But, I certainly know that Skyjack is willing to accept this new challenge head on and persevere!
SORT BY YEAR
POPULAR POST
From trade shows, to product deliveries, and more, check out the top Skyjack stories th
From trade shows, to product deliveries, and more, check out the top Skyjack stories ma