BIGGER, BETTER, SKYJACK
The new SJ9664 RT still boasts the features that are associated with Skyjack, including an AXLDRIVE™, commonality of parts throughout the range, and attention to accessibility for service.
It's these core competencies that keep the cost of ownership down, and positioning Skyjack as an industry leader in all-terrain performance. Owners and operators alike will appreciate the improvements we have made on this new machine.
SKYCODED™
A proven and reliable control system, incorporating Skyjack's color coded and numbered wiring system, make our machines the easiest to trouble shoot and repair which means easier maintenance and lowered costs.
SMARTORQUE™
Using an optimised balance of engine horse power, torque, and hydraulic performance, Skyjack SMARTORQUE™ products deliver the same on-site job performance as higher power units - providing excellent performance with less engine horsepower. Less emission controlling components avoids the cost associated with their complexity, as well as the time and inconvenience required in maintaining them. SMARTORQUE™ means no Diesel Particulate Filter (DPF), no Diesel Exhaust Fluid (DEF)/AdBlue, and no other active exhaust after treatment.
AXLDRIVE™
An axle-based drive system with an operator controlled locking differential on the rear axle and limited slip differential on the front axle. This drive system has been proven as durable, low maintenance, and capable of navigating any job site terrain.
ACCESSORYZERS™
Skyjack offers a full line of ACCESSORYZERS™ to improve your machine's versatility. These manufacturer-approved accessories are designed to add functionality to your machine and convenience for the operator. Whether it's helping you get materials to the work site, protecting equipment from the weather, or enhancing productivity, Skyjack has the right accessory for the job.
ECOSTART
This idle-eliminating option helps reduce harmful emissions by automatically turning off a machine if it is left idle for three minutes.
A blue LED light will illuminate to alert the operator that the machine needs to be restarted simply by pressing the button located next to the light.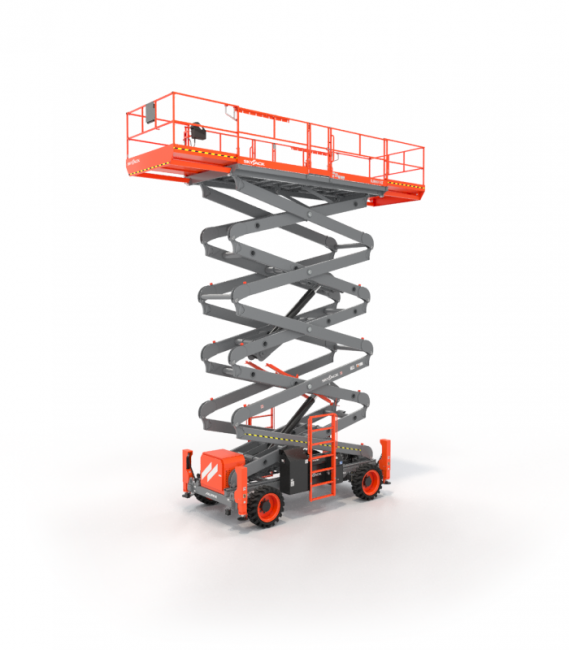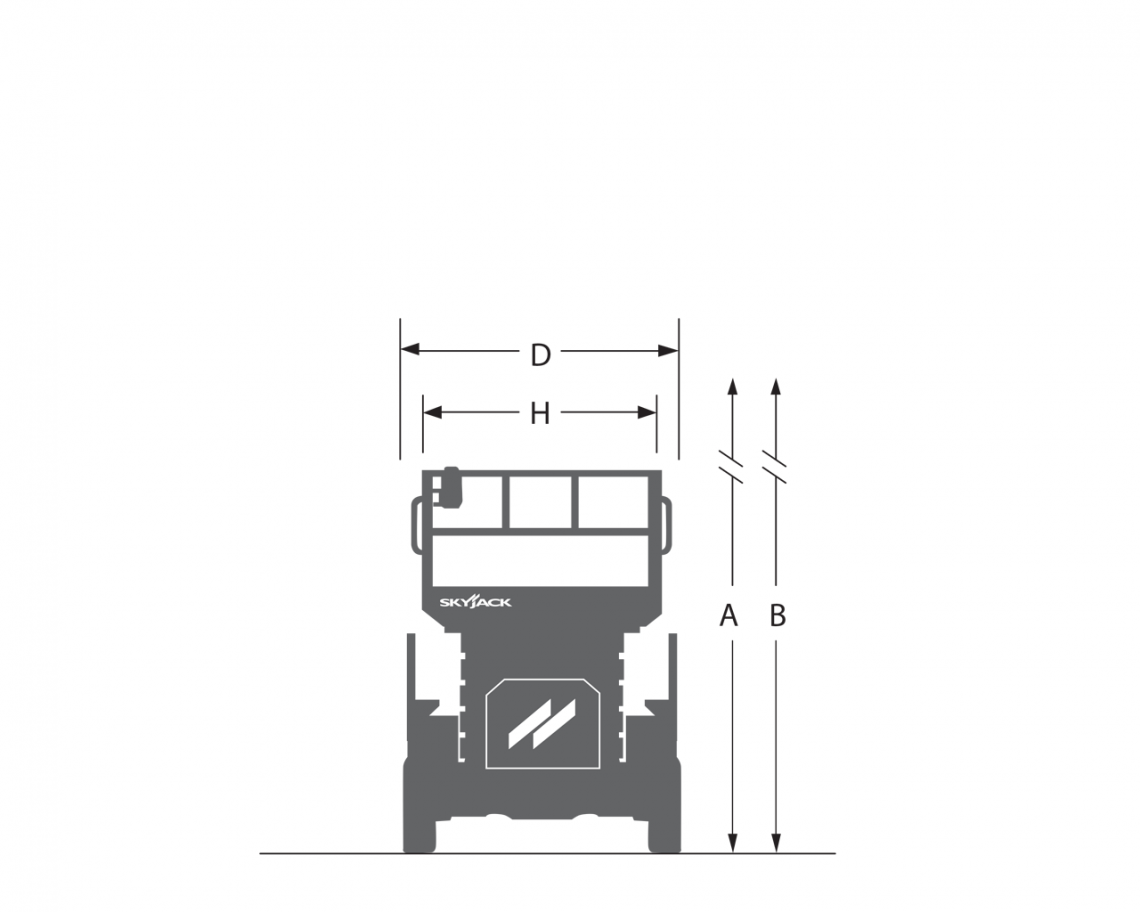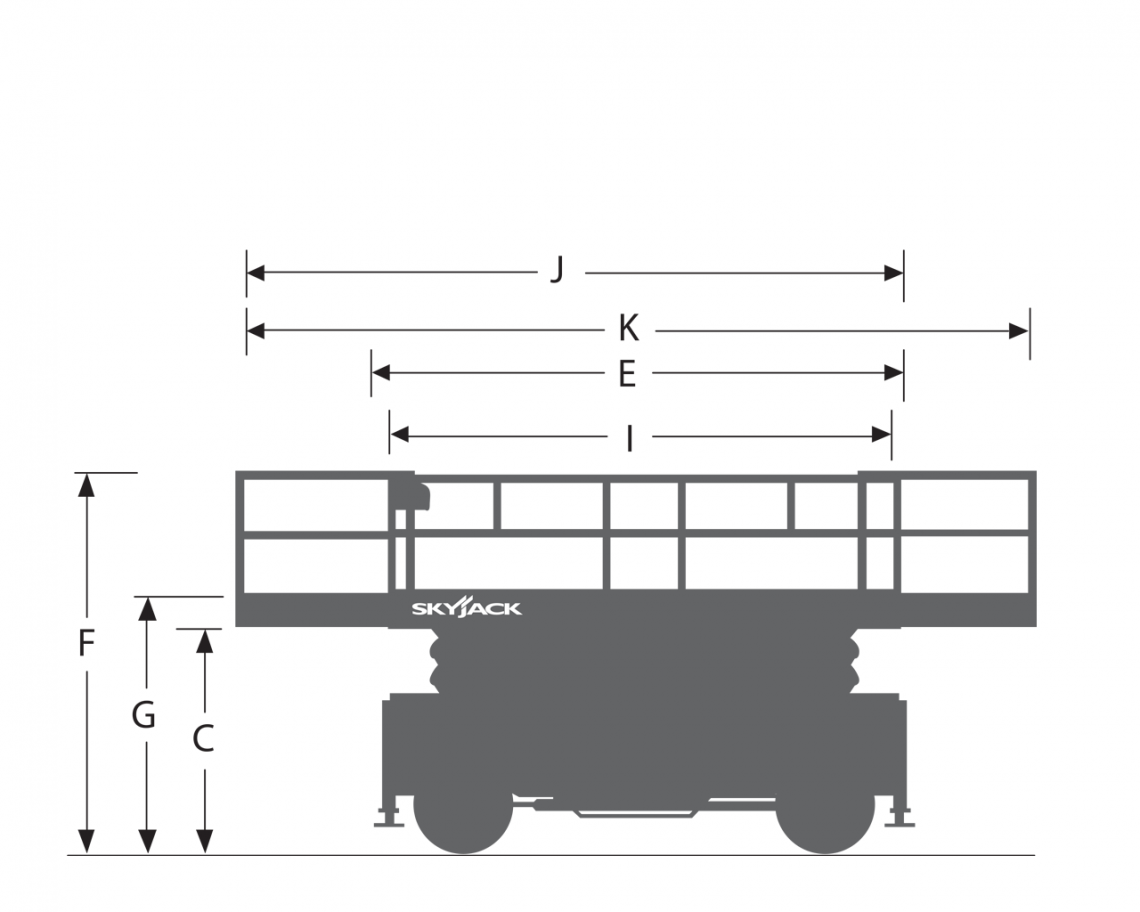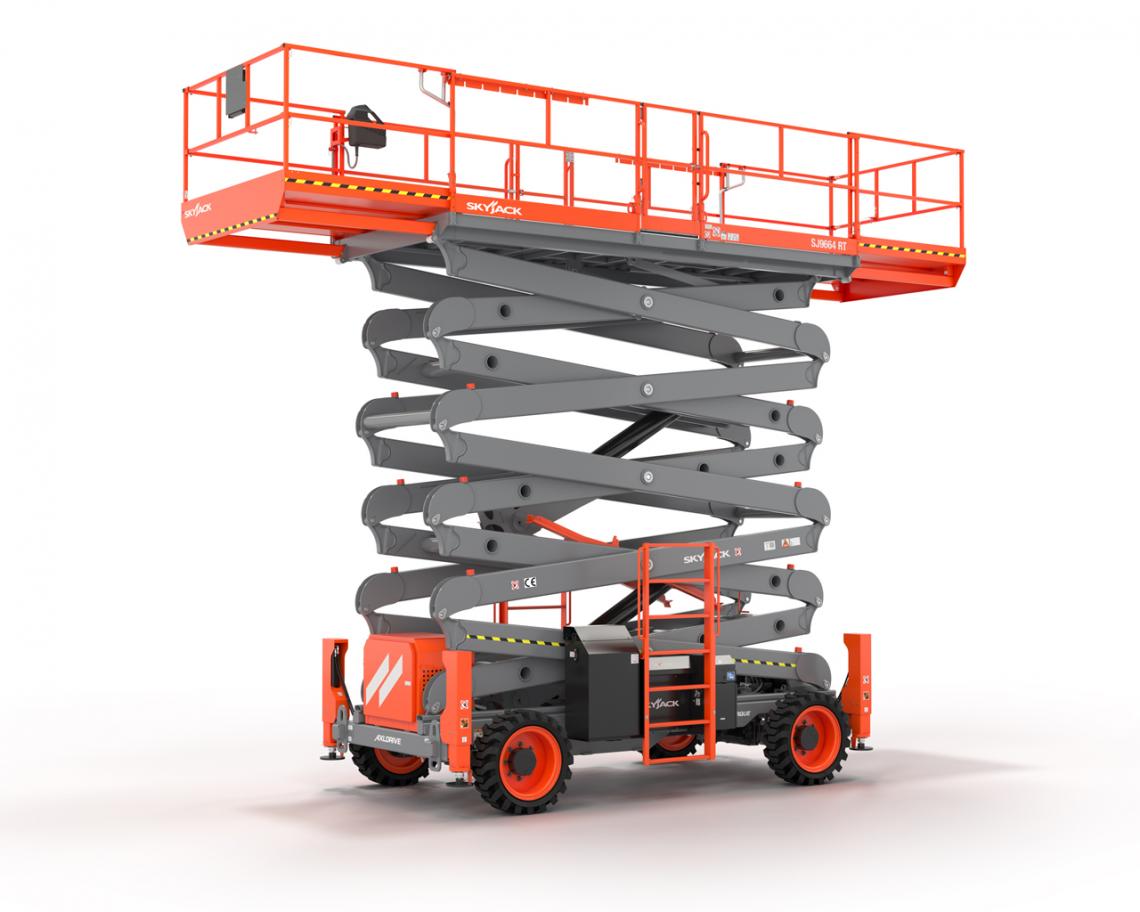 | | SJ9664 RT | |
| --- | --- | --- |
| Work Height | 21.51 m | |
| Raised Platform Height | 19.51 m | |
| Lowered Platform Height | 2.45 m | |
| Overall Width | 2.44 m (Over Outrigger Pads) | |
| Overall Length | 4.57 m | |
| Stowed Height (Rails Up) | 3.60 m | |
| Stowed Height (Rails Down) | 2.78 m | |
| Platform Width (Inside Dimension) | 1.90 m | |
| Platform Length (Inside Dimension) | 4.36 m | |
| Extension Deck (Roll Out) | 1.52 m x2 | |
| Extension Deck | 7.21 m | |
| Ground Clearance | 26 cm | |
| Wheelbase | 3.02 m | |
| Weight | 9,997 kg | |
| Gradeability | 32% | |
| Turning Radius (Inside) | 3.33 m | |
| Lift Time (With Rated Load) | 86 sec | |
| Lower Time (With Rated Load) | 70 sec | |
| Drive Speed (Stowed) | 4.8 km/h | |
| Drive Speed (Raised) | 0.80 km/h | |
| Maximum Drive Height | 9.14 m | |
| Capacity | 513 kg | |
| Distributed Capacity (Main Platform) | 286 kg | |
| Distributed Capacity (Extension Deck) | 227 kg | |
| Maximum # of Persons | 5 (0 m/s) | |
| Wind Rating | 3 (12.5 m/s) | |
| Tire Type | Solid | |
| Tire Size | 33 x 12-20 | |
| Diesel Engine | Kubota D1305 - 18.5Kw (24.8hp) | |
| Fuel Tank | 49 L | |
| Hydraulic Reservoir | 116 L | |
| Frame Leveling (degrees) | 6° x 10° | |
accessories and options
SJ9664 RT
3.5 kW Belt driven generator
ALL MOTION AUDIBLE ALARM
ARCTIC WEATHER PACKAGE
BIO OIL
COLD WEATHER PACKAGE
DIESEL SCRUBBER
DUAL ROLL OUT EXTENSION DECKS
ECOSTART (anti-engine idle)
MATERIAL HANDLING STAND
POSITIVE AIR SHUT-OFF VALVE
RT HEAVY DUTY PIPE RACK
SGLE
TYRE OPTIONS
TOOL CADDY
ELEVATE