Thank you for your interest in joining our team at Skyjack. All applications for employment opportunities worldwide must be submitted through our corporate career page at Linamar.com.
We look forward to hearing from you!
Upcoming job fairs for our Guelph locations are posted on our Facebook, Twitter, and LinkedIn pages.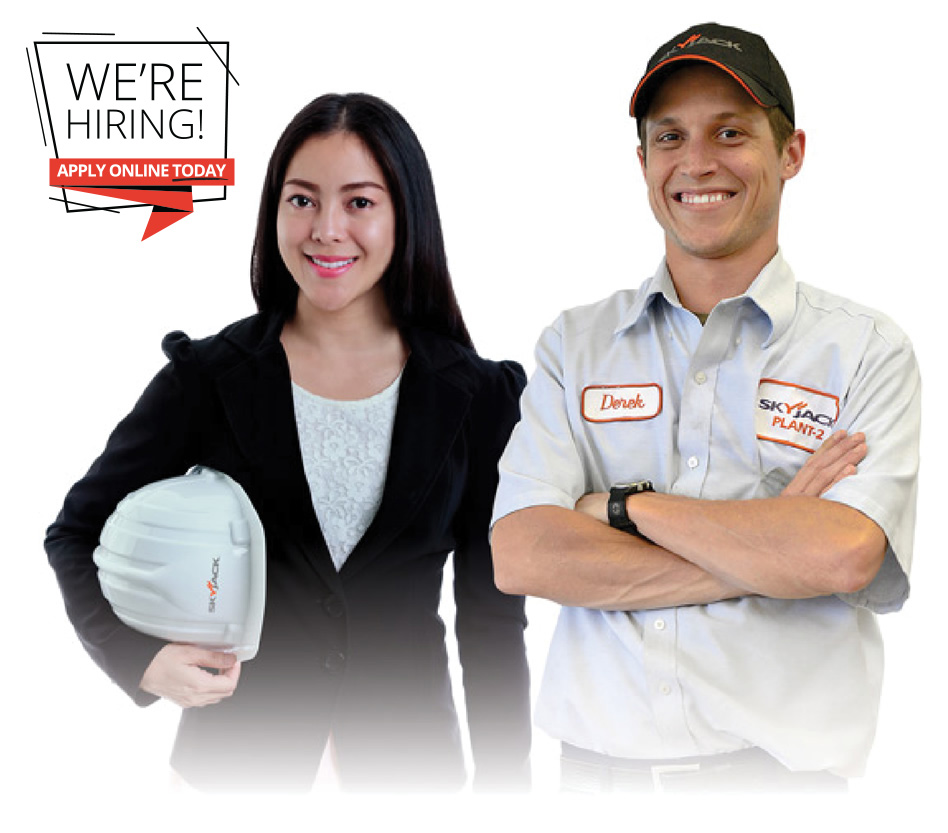 WHY SKYJACK?
ICONIC PRODUCTS
Your expertise will help us build our globally distributed products for world-class projects. At Skyjack, we create construction equipment that transforms the world around us. Working together, we shape the future of our industry. Your role is key to the success of our business – whether you're working on developing a new product, building our industry-leading product range, or helping keep our business running smoothly through support roles.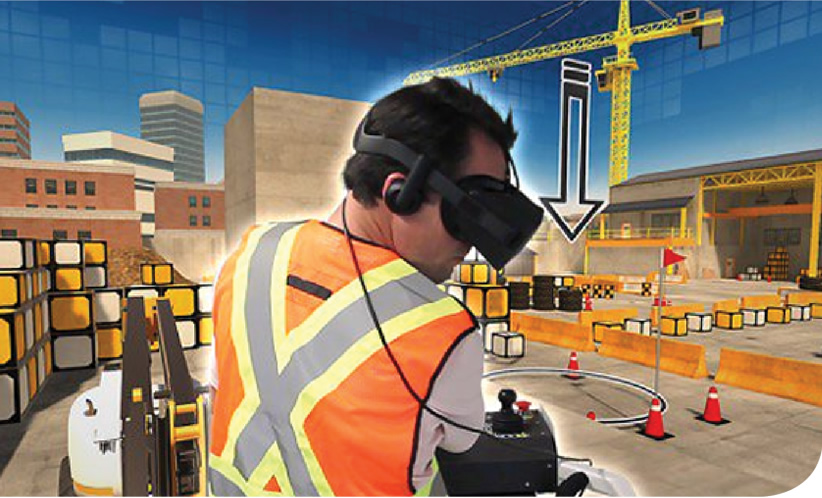 FUTURE FOCUSED
Your ideas today will transform the industry of
tomorrow. New technologies are transforming our
industry and shaping the way we work.
We are researching, developing, and implementing
digital tools that are driving change – all while
maintaining our simply reliable ethos. With your help, we will create a safer, more sustainable future.
DEVELOPMENT OPPORTUNITIES
Our team is building the future. We know that training and investing in our in-house experts is the only way to drive our business forward. We use a set of comprehensive frameworks to assess and train our people. This ensures they have the right training to help them succeed and progress in their chosen career path. Our training programs are designed to support and encourage our employees within all sectors of our business.
Within our team, we look for people who exhibit:
Leadership: the courage to shape a better future
Collaboration: leverages collective genius
Integrity: be real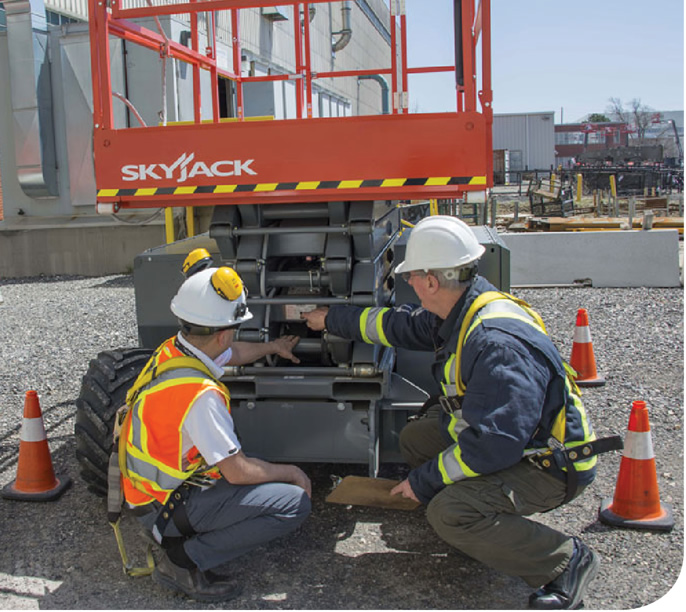 DIVERSITY, INCLUSION, AND RESPECT
Everybody thrives in an environment that accepts and embraces difference.
We are dedicated to creating a fair and inclusive workplace where everyone feels comfortable and can perform at their best.
WHAT IS IT LIKE TO WORK AT SKYJACK?
We value diversity and celebrate individual differences as a source of strength. Our inclusive culture helps our business continue to grow as a strong, dynamic, and innovative organization. Our long-standing commitment to equal opportunities is woven into the very fabric of our company. Having respect for others is an integral part of our working culture.
What makes Skyjack unique is the expertise and capability of our people. By encouraging everyone from all backgrounds to join our team, and encouraging them to do their best, we help bridge the skills gap our industry continues to face.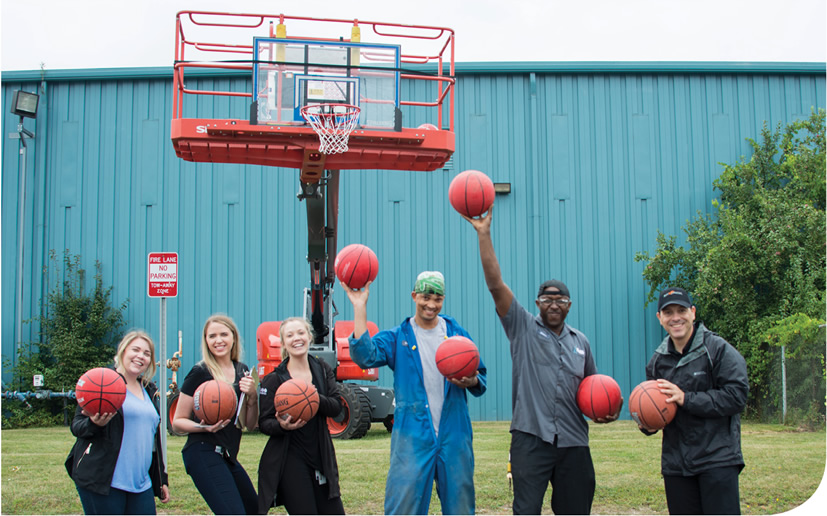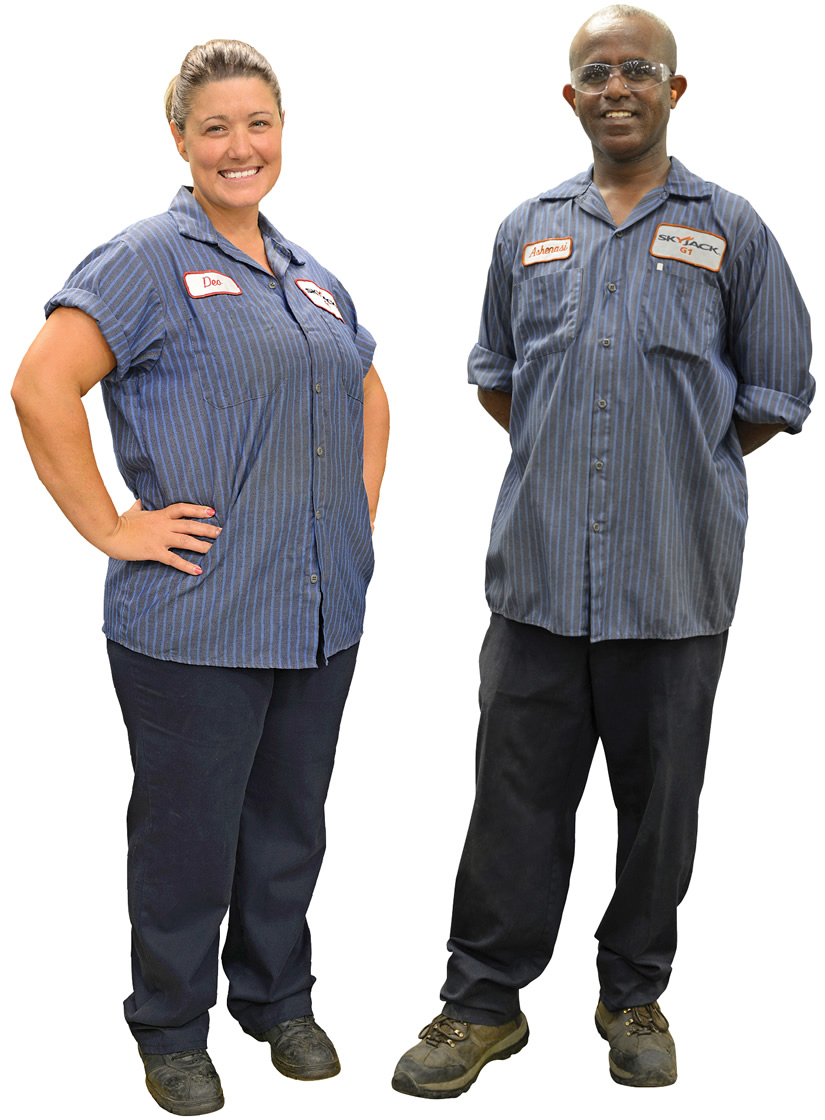 Diversity of people, perspectives, and experience is essential to helping Skyjack address business challenges and perform for our customers. We believe in creating a safe and welcoming workplace with a supportive and fair culture that encourages fresh and innovative ways of thinking.
Our Diversity and Inclusion (D&I) Strategy drives action to improve diversity within our organization. It promotes high performance, engagement, and makes Skyjack a great place to work.
The skills and diversity of our people and our supply chain are vital to the development and success of our business.
Through a diverse and inclusive workplace, we will:
Improve diversity and embed inclusion across Skyjack, meeting government requirements and objectives;
Enhance our brand and reputation by celebrating difference, supporting work winning and building commercial advantage;
Create an inclusive environment where all employees can be themselves at work and perform at their best;
Meet skills demands by acquiring and retaining the best available talent, and enhancing our capacity for high performance and innovation;
Embed diversity into how we do business with our customers, suppliers, partners, and communities to achieve our D&I goals.
APPRENTICESHIPS
Think beyond the hard hat, past stereotypes, outside of the job site, and look forward to a future full of opportunity, infinite possibilities, and far-reaching impact.
Yes, we offer careers in construction and engineering, but we also go beyond this. We use the latest technology to make big impact through industry-leading changes that ensure we leave a legacy that will inspire generations to come.
Our apprenticeships include:
Electrical and Mechanical Engineering
Welding Certification
CWB Training & Ticketing

SCHOOL LEAVERS
Join our expert teams, work on exciting projects, and earn while you learn. Could you be part of the next generation of experts?
Depending on your level of education and career choice, you may even have the opportunity to carry on your studies to Higher National Certificate (HNC) and potentially continue to a degree level. Once qualified, we also encourage you to obtain full professional qualifications in your chosen field.
DEVELOP YOUR EXPERTISE
Learning and Development
Developing a culture where people can flourish is essential to truly maximizing potential. Our strong leadership culture is communicated, demonstrated, and rewarded at all levels of the organization.
Skyjack offers a variety of experiences that support the personal growth and development of our people. Through leadership training and development opportunities, we help our people more in the direction they want to go – helping them drive the results necessary for their success and for ours.
UNDERGRADUATES AND GRADUATES
More learning, more skills, more opportunities. We expect more from our graduates. We look to them for ideas and fresh perspectives that will shape our future. We help them develop skills that will redefine the world we work in. This means we offer them the opportunity to build a more varied, more rewarding career with Skyjack than with anywhere else.
You'll receive excellent structured training, learn from world-class colleagues, and play a hands-on role in the most exciting projects in the industry.
You'll receive in-depth training, recognized qualifications, and structured support to build a varied and challenging career.
You'll have the chance to build real specialist skills while exploring your full potential across a range of projects, sectors, and roles.
Through Skyjack's guidance, and your institution's co-op program, you'll receive training and leadership directly related to the functions you want to finesse and launch your career in.
TECHNICAL SKILLS TRAINING
Setting our team up for success
With a focus on precision machining, we place a strong emphasis on the development of the technical skills for our people. We heavily invest in technical training and apprenticeships to ensure our employees are equipped with the right skills to meet future business needs.
Technical skills training includes:
Quality Assurance
Project Management
CNC Set-Up Training
We also offer apprenticeships for:
Electricians
Millwrights
Machinists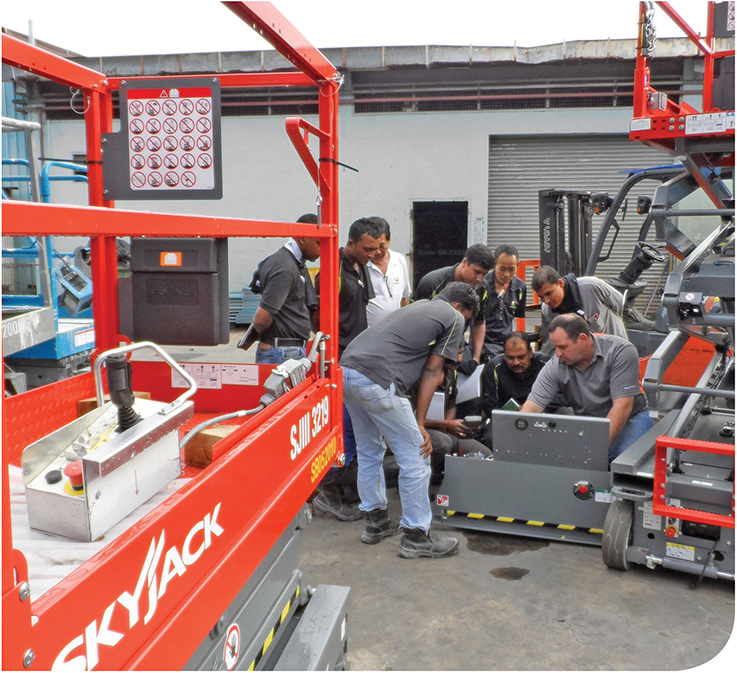 LINAMAR LEADERSHIP DEVELOPMENT PROGRAM (LLDP 1 & 2)
We know that strong, purposeful leadership is required to drive our success, which is why we provide our leaders with the best practices that help them to plan, communicate, and execute in a way that demonstrates passion and edge. Our LLDP programs address critical leadership skills at each level of the organization. These programs are grounded in Linamar's Core Values and Leadership Behaviors and focus on essential outcomes.
The LLDP programs use an experiential model of development that promotes self-awareness and skill enhancement, while having fun. Key learnings are internalized through the creation of action/coaching plans that drive accountability for improvement. A fundamental belief is that leaders share the responsibility to live the program outcomes within themselves and their teams in order to achieve a high degree of success.
We know that leadership is about getting things done through others, so we give our leaders the knowledge, skills, and tools they need to cultivate loyalty and commitment in their people.
Great leaders, you'll find them here!
LINAMAR ENTREPRENEURIAL ADVANCEMENT PROGRAM (LEAP)
As part of Linamar Skyjack employees benefit from the LEAP program. LEAP is a 3-5-year management development program designed to give potential candidates the skills, experience, confidence, and perspective they need to become future operational leaders. Participants selected for this advanced management training program rotate through each functional area of the business at several locations throughout the company.
The ideal candidate is a dynamic, high potential individual who would be ready to take on at least a Plant Operating Committee level management role within three years. This fast-paced, fast-track program helps us ensure we have qualified people in the leadership roles that matter.

SUCCESSION PLANNING
EACH ONE TEACH ONE PROGRAM
To ensure that we have the right people in the right jobs at the right time, we keep an eye on our high potential employees and offer the opportunity to align their skills, experience, and development goals with outstanding new opportunities. To help them grow with us, we offer development activities such as stretch assignments, mentoring, job shadowing, and specialized training; all of which drives our high- performance culture. If you're looking for a chance to thrive in a challenging environment, then this is where you want to be!